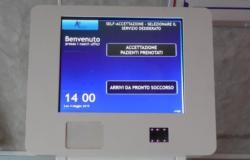 Pontarollo introduces new totem for self-acceptance
New Artexe totems for self-acceptance was installed in the hall of the Center Pontarollo of Citadella. Totems allow the medical staff to be partially relieved of administrative tasks because they manage the user accreditation and its queuing to outpatient visits.
"The new service aims to make life easier for users and reduce the waiting time at the counters so nobody have to queue at the counters" explained from the hospital, "Moreover, the information system by Artexe, will rationalize the resources dedicated to the tracking and call management of the patient in the surgeries".
In practice, before making an outpatient service or a visit, the citizen uses the totem for accreditation. The totem checks if the payment was made (if due), and delivery to the citizen indications concerning the surgery where it shall wait. At the same time, the surgery receives information of the patient accreditation: nurse will receive it focalizing exclusively to the collection of clinical information, because the controls at the administrative level have already carried out thanks to the totem in the process of acceptance. During the wait, the patient will no longer be forced to stay in the waiting room, it may follow its position in real time on monitors placed in the plans the Polyclinic.
This solution will improve the patient accreditation management, will simplify the paths, will optimize the waiting time before the visit. In the near future, these totems will be able to receive the payment from POS and will also be installed at Camposampiero Hospital.