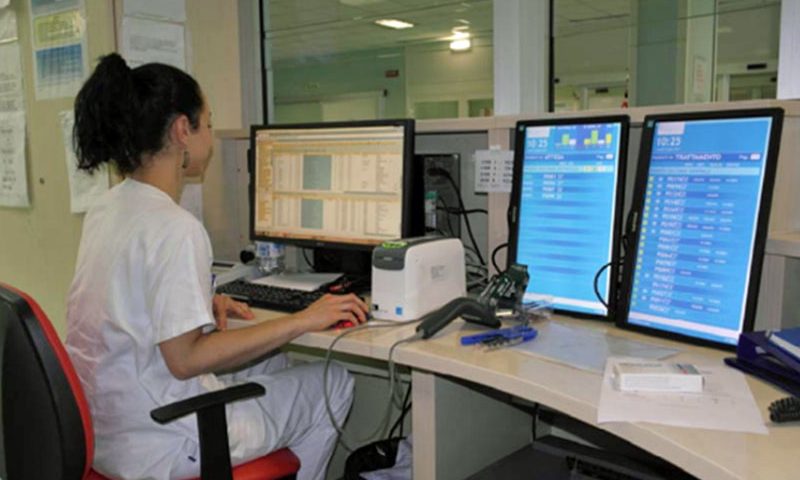 Innovation is the winner at Ferrara University Hospital Sant'Anna.
On June 8, at the presence of General Director Tiziano Carradori,  Director of Administrative Area and head of Communications  Agostina Aimola and Emergency Room acting Director Giorgio Squarzoni, it was presented in press conference the newly installed system for patients admittance and flow management at the Emergency Department.
The system has been implemented by Artexe Spa, specialised enterprise in the development of high technology innovative projects in healthcare in Italy, enabling cutting edge quality in the relation between hospitals and patients, already visible in 95 facilities with 420 installations in different areas.
The solution adopted by Ferrara hospital includes a number of video screens delivering important information to the patients and their relatives or caregivers while they are in the waiting areas.
At the moment of patient registration at the ER, the triage operator gives to the patient and to the person who may be with him (relative, friend, caregiver, etc.) a document with the Identification Number and a colour code, that will be visible on the video screens.  This system ranks patients by colour codes priority (white, green, yellow, red) and by time of arrival, paired to the assessment of single cases situation (also when colour codes are equal).
When called by the doctor, the patient will see his call on the screens, recognizable by the Identification Number and colour code, directing him to the assigned room.  On the screens it is also visible the current situation of the visits and the ER crowding.  In the waiting rooms there is also a video screen showing general interest information.
With this system it is possible to reach an important improvement in the communication with the citizens and to optimize the flow of arrivals and patients admittance, enabling a measurable increase in the quality of the service and a significantly better experience by patients and their cared ones.