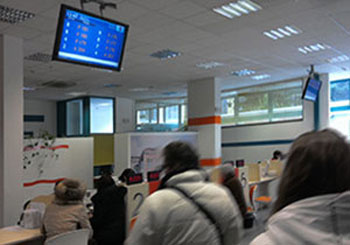 Improvements in reception at Gaetano Pini Orthopaedic Institute in Milan.
A successful start for the new system of patient queues and reception management within the Orthopaedic Institute Gaetano Pini general and radiology clinics in Milan.
After testing at the "Alpa" private area, also the other clinics have adopted the innovative Artexe solution that alerts the physician of the patient arrival. When the patients show up at the front desk for accessing to the care service needed they receive a ticket showing where the waiting area and surgery are. They may comfortably wait for their call shown on the monitors.
Thanks to the implementation of the new system the Hospital has been able to:
accomplish a service for the management of waiting times, research and patient's call, easy to use for patients, administrative and medical staff;
eliminate waste of time due to personal call-in;
guarantee full respect of privacy, through the alfanumeric profiler that identifies univocally each patient and acts as pathfinder guiding the user in the access to the service.
"The assets of the project proposal – says Dr. Mara Cinzia Taverriti, Head of the URP (relations with the public) and promoter of the project – are completely aligned with the will to integrate and improve, with new technologies and advanced services, the quality of reception and the organizational management model."
"Being able to objectively measure the processes – continues Dr. Taverriti – starting from the booking hour assigned to the patient, following his admittance (arrival) all the way until the execution of services (doctor's call), together with the opportunity to check and correct the problems related to "structural" delays is functional to better service, greater productivity and proper planning of the whole process itself."