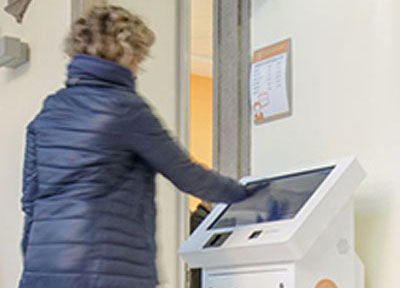 Bergamo hosts a new excellence project signed by Artexe, aimed to simplify the admission path and optimize front-End activities in Healthcare services.
In September the new project by Artexe was activated at Clinica Palazzolo in Bergamo, with the opening of the new unified booking centre and the final touch to the restyling of the structure.
Clinica Palazzolo wanted to redesign the organization process of the Front-End activities in order to simplify the access to outpatients and at the same time to speed up the flow of patients from the waiting areas, optimizing the use of dedicated resources.
Patients already booked for a specialistic service may check-in very easily at the two self-service kiosks strategically positioned in the access areas.
In this way they receive a "privacy code" enabling them to directly reach the waiting lounge shown by the system, from where they will be called as scheduled without any need to queue up at the admittance desks.
This project, besides delivering a better service to users, also lowered the daily pressure on the Front-Desk  operators, facilitating personnel shifts organization and improving productivity.As with Gaslini in Genova, also in Bergamo the excellent results achieved gave the right answer to critical issues and potential overloads likely to impact small and big structures in the public and private healthcare services, ever more involved in Spending Review policies.