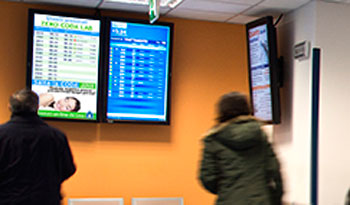 In a single month more than 1,500 reservations, showing steadily growing numbers.
Innovative FREE online booking system for samples withdrawals and laboratory exams.
On May 6, 2013 the online booking service Zero Queue Lab
Has been successfully activated by ULSS 6 Vicenza. This innovative cloud service end-to-end is the first service of its kind in Italy in the health sector.
The service allows you to choose the place, day and time of the visit and gain access directly and without queuing up at the surgery.
The objective of this system is to distribute users in an orderly manner throughout the opening hours of the samples withdrawal points, so as to minimize the time taken to provide the service and consequently reduce the number of people in waiting rooms. With this system, the citizen can avoid waiting at the surgery, with queues previously exceeding one hour during peak times, booking by himself comfortably from home with a PC or even on the go with a smartphone.
By connecting to the website www.ulssvicenza.it and accessing the portal ZERO TAIL LAB, with a few simple steps you can make a reservation online, at the end of the procedure you will receive to your e-mail address and mobile phone a summary of the reservation. At this point it is sufficient to show up at the pickup point a few minutes before the scheduled hour and briefly wait to be called.
With the service ZERO TAIL LAB, the queue is avoided and the distribution of arrivals allows to drastically reduce the overcrowding in the waiting room.
The GM Angonese is very satisfied: "There was a problem to be solved and we tried to do it in the most effective way. It is a tool improving the Health Units along the technological progress, improves a strategic service and brings benefits to citizens."