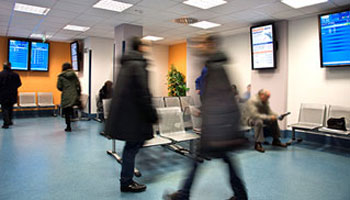 Mentioned for the Politecnico di Milano ICT Innovation Award in Health 2013.
The local public healthcare unit of Arzignano – USSL5 – ( Vicenza) got a mention in the context of the Innovation Award 2013 in the category ICT in Health Care "Digital Services to the Citizen" for the project "Reorganisation of First Aid." The mention was given at the presentation conference of the 2013 ICT Observatory on Health Research of the Politecnico di Milano School Management.
The project was mentioned for the multidisciplinary approach used in the review of emergency department services that combined the reorganization of reception and queue management with the opportunities offered by ICT technology, achieving an improvement in the level of information given to the patient and to rationalize the activities of health professionals.
The ER of Arzignano is the pilot project of the Veneto Region for improving the queue management in the emergency department. Launched in January 2012 and become fully operational in September 2012, it is based on five pillars:
The improvement and strengthening of Triage;
The introduction of a new role of assistant to the waiting room who, acting as an intermediary between the triage nurses, other health professionals and the citizen, shall provide the latter with information about waiting times, reasons of the waiting list etc.;
The identification of a referring physician whom to refer to for the various issues that operators cannot directly sort out;
The introduction of a technological solution, MR-You Enterprise® First Aid Artexe;
The improvement of the environmental comfort of the ER.
The award is an initiative created in 2010 to create opportunities for knowledge sharing about the projects that distinguished themselves for the ability to use ICT as a driver for innovation and improvement in the world of health care in Italy.
"The aim of the award is to generate a virtuous cycle of sharing experiences of excellence – says Mariano Corso, Scientific Head of the Observatory ICT in Health of Politecnico di Milano School of Management – with particular reference to the Italian health, which often do not know the full benefits of the adoption of modern digital technologies as a way toimprove their performance."